Manchester United continued their relentless start to the Premier League season with a five goal victory over neighbours Bolton Wanderers at the Reebok Stadium. Rio Ferdinand was restored to the starting line-up with Chris Smalling given a break after his international exploits. Phil Jones was moved to right back, further emphasising his versatility with Hernández selected up front in place of Welbeck who is expected back in training next week after his hamstring injury picked up against Arsenal.
The Reds were soon into their stride with some slick passing although a heavy and late challenge by Davies saw Cleverley leave the pitch with a suspected broken foot. Hernández opened the scoring after a further example of his devastating movement left Cahill in no man's land as he met Nani's cross with a deft finish at the near post. Rooney soon trebled United's advantage with a brace that owed much to the quality of Jones from right back. His first came as a result of an excellent cross while the second was a close range finish after a mazy dribble from the ex Blackburn man.
The second half was a comfortable affair for the Reds as they exhibited further fluent football adding goals from their deadly front pair giving Rooney back-to-back hat tricks and the little Mexican another to his burgeoning United tally.
De Gea and the defence were rarely troubled as the Bolton bombardment failed to materialise as class prevailed over honest toil.
United now move onto a Champions League opener against Benfica in Lisbon on Wednesday before all eyes turn to Old Trafford next Sunday when rivals Chelsea visit the new football capital of England. Without doubt the manager will rotate his squad with the emphasis on protecting his young talent for the league so I would expect an experienced side to be picked in midweek with the likes of Lindegaard, Fletcher, Carrick, Giggs, Park and Berbatov all likely to see some action. It would not surprise me to see Rooney and Young left at home bearing in mind their heavy workload in the early weeks of the season.
Post Match Debate:
Goal Analysis - Hernández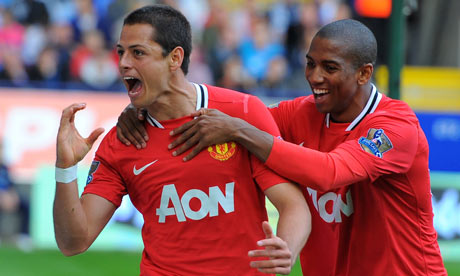 Javier Hernández returned to the goal trail with a brace against Bolton but it will be his opener that rightly gets spoken about the most. With any new player that has a wonderful debut season, the question of second season syndrome is mentioned but this was never going to be an affliction that affected our livewire striker. The reasons for this were amply demonstrated by the quality of his movement for his first goal. Gary Cahill is a defender of growing class for club and country but he experienced his own version of the Hokey Cokey as the little Mexican twisted him in and out in the build up to the goal. The camera shot from high up in the stand was a perfect example of why young strikers should look to emulate this skill. In reality, there was not much Cahill could have done to stop the goal unless he guessed correctly where Hernández was going to end up. He almost repeated the trick a short while before half time but was correctly adjudged offside. The quality of Nani's cross should also not be underestimated as it would have been easy to over hit or lay it back to the penalty spot for an onrushing support player.
Jones: Midfield Maestro?
Another majestic performance from our recent recruit from Blackburn in an unaccustomed position got me thinking post game about where he can best be utilised in the years to come. Although, he is earmarked to fill the role of centre back for the club, the more I see him, the more I feel it could be a waste of his supreme talent. For this reason, I feel he could emerge as a wonderful midfield maestro who can not only break up play but also supplement the attack with strong running and sound passing ability. In my mind, this sounds exactly the kind of player that United have been looking for over the last couple of years and with careful nurturing there is no reason why Jones cannot fill this void. It may take a few years before this comes to fruition as the youngster learns his trade in the back four but you get the feeling whatever challenge is placed in front of him, there is nothing to suggest that he cannot overcome any such obstacle.
The value of this to the club would be huge as this kind of player would command a large fee on the transfer market and the next few years gives the manager the chance to shape the role for the big youngster as he learns his trade.
De Gea Distribution
As mentioned earlier, De Gea had a relatively trouble free evening in the United goal despite morning rumours suggesting the manger was thinking of saving him from the Reebok experience. What stood out yesterday (not for the first time) was the quality of his distribution as back passes often resulted in him playing simple passes to available team mates rather than launching the ball upfield which would most likely end up back in the possession of the opposition with no target man to aim for. Quality with ball at the feet is now a pre-requisite for all United keepers and it could turn out that the young Spaniard will prove to be the best we have ever had in this department. Another notable moment was when he almost created a goal for Hernández with an accurate punt down field soon after the break. It demonstrates once more just how often a devastating attack can often begin from deep in a team's own half and ensures a defence can never rest easy.
Rooney - the big man is most definitely back!
The superlatives for the Croxteth born player are close to being used up in the early weeks of the season after another imperious display at the Reebok on Saturday. Quite simply, when Rooney plays well then so do both his club and country. He is the conductor and everything goes through him and when you add in such a significant goal threat then you have a potent threat that possibly only the likes of Messi and Ronaldo can match. The challenge for Rooney is perform to this level for a significant period of time (like his aforementioned contempories) to drive his team towards glory over the course of the season. What has also been noticeable this season is just how settled and content he appears. There has been little sign of the dissent or aggression that has often blighted his performances in recent years that it could be argued means he takes his eye of the ball. More than likely is that he has matured to a much higher level after all of his experiences in the last year or so and perhaps the added responsibility of fatherhood has poured some level of calm over this aspect of his character. While you would not want him to lose the fire in the belly, if he can keep it controlled then his focus remains on helping drive his team on rather than some presumed injustice. Whatever happens, it will be an exciting adventure watching Rooney continue his progress into the world class playmaker we all know he is capable of.
Other notable performances
Rio Ferdinand and Jonny Evans were solid at the back yesterday as the booking for Davies seemed to quell his aggression and Klasnic did not possess the threat that he so often can. Anderson continued his wonderful start to the season with another classy display at the heart of the midfield. His passing was controlled and incisive while he pressed and harried to good effect. This new found confidence also means that he is beginning to take charge of the central area and boss things to such an extent that he is making himself one of the first names on the teamsheet. Consistency is now the key for the talented Brazilian but he cannot have done more to change many minds among the United faithful. Michael Carrick took over the midfield duties from Cleverley after his early exit and settled comfortably into his usual role with little fuss and quiet efficiency as would be expected. Ashley Young has had a busy couple of weeks and was relatively quiet yesterday but even so he worked hard and was always available for his team mates. Hernández and Rooney resumed their partnership that so lit up the climax to the season last year and it appears that they will cause plenty of havoc to opposition defences in the years to come. They dovetailed perfectly again with the Mexican playing on the shoulder of the last defender while Rooney floated all round the pitch causing havoc wherever he popped up. If they can stay fit, then there is a high chance of over 50 goals resulting from this partnership over the course of the season but the one caveat to this is the extent of rotation that could ensue as the season progresses.
Player Ratings:
De Gea 6, Jones 8, Ferdinand 7, Evans 6, Evra 6, Nani 7, Cleverley 6, Anderson 8, Young 6,
Rooney 9
, Hernández 7. Subs: Carrick 6, Giggs 7, Smalling 6.
Click on the button below to follow me on Twitter and/or recommend this post on Facebook.
What are your thoughts on Phil Jones? Could he be our next midfield kingpin or would you keep him in defence?
How impressed were you by Hernández's movement for the first goal?
What are your thoughts on how De Gea is settling into United life?
Follow @writtenoff_mufc